What is AdFeathers?
inContact is the number one used CRM system in the Canadian Financial Industry. 76% of the leads and mortgage transactions completed by mortgage orginators in Canada, go through our platform.
AdFeathers is a marketplace that empowers the owners of data that resides in our system to take advantage of offers presented to them by advertisers and companies based on the criteria of the contacts in their database.
AdFeathers segments data for Brokers, allowing third parties to propose opportunities to the Broker based on their data. Once accepted, AdFeathers conveys these opportunites to the contacts, on behalf of the Broker... with no effort to the Broker.
How it works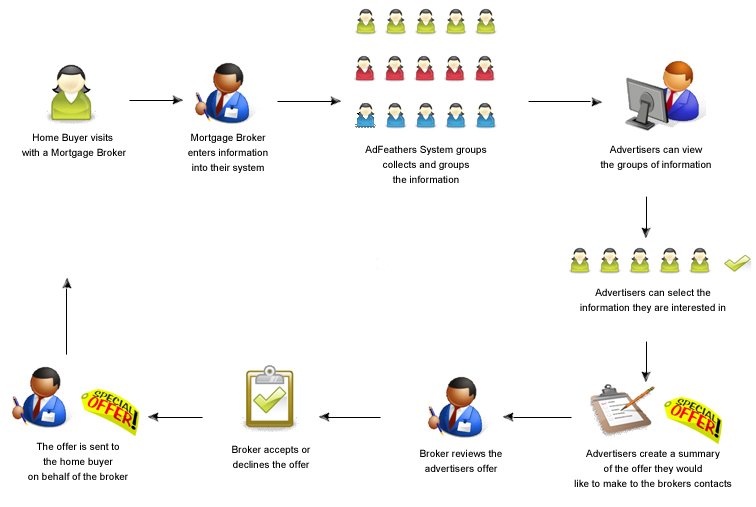 Why we built AdFeathers
inContact has been in the CRM business for Mortgage Professionals since 1999. We have learned a few things in those years:
Mortgage Professionals main focus is originating and servicing loans


Mortgage Professionals in the process of getting a mortgage, collect over 1000 pieces of information about the transaction. This includes income ranges, mortgage details, age, credit status, loans and much more



Brokers don't always have the time, resources or technical knowledge to market and manage their customer base

Brokers want and need to stay in front of their customer base to help generate new business as well as maintain a relationship with their current clients

Mortgage Professionals are respected and trusted advisors to their client base

There are opportunities at specific times in the life cycle of a mortgage transaction, when it would be beneficial for the brokers, applicants and advertisers to work together

Our network of brokers represent 76% of the leads and mortgage transactions completed by mortgage originators in Canada

How it is used
The AdFeather's Marketplace is used in many different ways. Here are a few examples:
Example 1 - A Mortgage Brokerage firm would like to send out a monthly newsletter to their Mortgage Agents' contacts. This is a service that the Brokerage provides its agent for free and with no effort on the part of their agents.
Example 2 - A home renovation store would like to offer 25% discount to all first time home buyers in the first 6 months of living in their new home. The store provides the brokers with a 25% discount coupon that is given to their first time buyers, the first week they are moved into their new home.
Example 3 - An Electronic distributor would like to provide a $100 savings coupon to all home owners who recently cleared all their credit card debt affording them more disposable income.
Why is this so valuable?
It's an overused phase, but this system is a "Win - Win". Consumers win by being presented offers, discounts and information at the exact moment they should want to take advantage of them. Brokers win, by providing their clients with added value, staying in contact with their clients and doing no work to execute professional value added services to their clients. The advertisors win by getting the right message at the right time delivered to customers on their behalf by a trusted advisor of the client.
Case Study
The following pilot was run in conjunction with a National Canadian Mortgage Brokerage Firm. Here are the basis of the pilot and the click through rates on the email materials sent:
National Brokerage announced the service to their Brokers in their monthly communication

inContact Emailed all the Agents asking them to "Accept" the offer for AdFeathers to email their clients a newsletter on their behalf

The newsletter was sent to the Agents clients who accepted the offer

Clients received emails and clicked through to the online newsletter

The Newsletter sent to the clients - http://www.incontact.ca/adfeathers/adfeathers.html

The first email to Agents was sent on 2/23/2010

There were 146 Agents emailed

These Agents represented 5964 clients

4% of the 146 Agents accepted the offer to email their clients

513 total emails were sent to clients

29% of 513 clients clicked on the newsletter link in the email

Data Privacy
inContact takes data security and privacy very seriously. The AdFeather system and how it operates meets and exceeds the following privacy regulations:


CAN SPAM

Canadian Privacy Law

Canadian Pipeda Act

For more information and contact information please view
inContact Privacy Policy
.
Pricing
inContact will assign an AdFeather's Client Delivery Representative to discuss the options and pricing for various feature of the AdFeather's Marketplace. Your account with us will include:
Access to a secure web-based access panel

Unlimited searches of grouped contacts and applicants

Possible 5 campaigns per month

Real Time Reporting on Campaign Stats

Getting on our Network
If you would like more information or a demonstration of inContact's AdFeather's MarketPlace please email us at info@incontact.ca or call us at 1 866 290 6067.