Customized Marketing Done for you
Staying in contact with your clients will ensure a career full of returning clients, client referrals and productive referral sources. inContact has put together effective marketing plans that will be executed on your behalf to your clients.
A simple fact. Customer referrals and repeat customers are the lifeblood of the mortgage business. And yet, how many referrals and refinancing opportunities are lost, simply because no one has the time or energy to spend on marketing to past customers. inContact has 3 and 5 year marketing plans that are executed to your clients on your behalf. For a fraction of what it will cost for you to get this marketing out the door, we will have it done for you with no effort on your part.
About the program
Since 1998 inContact has been helping business professionals execute their marketing programs. We have learned that one of the key ingredients to a successful marketing program is one that gets executed. That is why we created inContact CRM Central. The database marketing program done for you.
What makes our program different
To ensure that your clients return to you, inContact's program is comprehensive in its scope and includes, but is not limited to the following:

· Ensure that your clients receive 5 to 10 touches per year
· All pieces are professionally designed
· Your signature is included on all pieces
· Your picture is included on all pieces
· Content of piece is relevant to where your clients are in their mortgage
· Images used in pieces are relevant to the age and gender of the contact
· All pieces have been proven in the field to ensure repeat clients
· Integrated Data Collection
· Fresh Marketing Content
· Ongoing Coaching
· Refund Management
· Content Update Status Reports
· Intelligent Marketing Engine
· Customized Programs
· The right message at the right time
· We do the work, you get the business
· Professional Quality Pieces including but not limited to

· Newsletters
· Emails
· Birthday Cards
· Closing Letters
· Anniversary Letters
· Fridge Magnets
· Annual Calendars
· Personal Support
· Refinance Letters
· Referral Letters
· Thank You Letters
· Maturity Letters 1yr and 5 months out
· Christmas Cards


Marketing Plans
The Classic CRM Package - $42.99/contact
This CRM Package is the complete Contact Management plan for your contacts. It addresses both the sales related contact needs as well as a general contact plan. For the cost of $42.99/contact we will ensure that your clients receive 5 pieces each year customized with both yours and their information.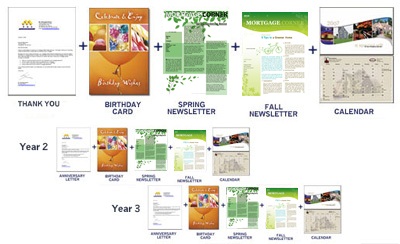 The 5 Year Premium Campaign - $74.99/contact
This CRM Package is the complete Contact Management plan for Mortgage contacts. It addresses contact needs as well as a general contact plan. This plan consists of 5 pieces over 5 years at a cost of $74.99/contact.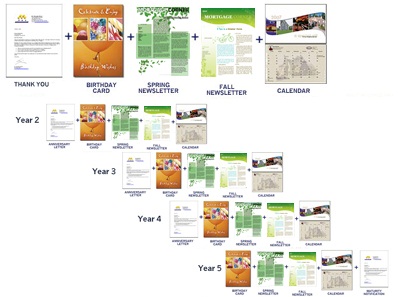 How it works
Follow these steps to get set up on the inContact marketing program:

1 - Get Signed up. Call our office 1 866 290 6067 xt 111

2 - Securely transfer your contact information to inContact's CRM Central Administrator

3 - On a monthly basis you will receive a report outlining which clients will be receiving which communication that month

4 - Answer your client calls and focus on what you do best in your business.

Now you can relax knowing your contacts are being marketed to consistently.



Customizing the Program
inContact will work with your firm to develop a customized marketing program and then execute it for you. If your firm has a team of sales reps or is in a specialized industry where the content of your marketing program needs to be tailored, please contact us at 1 866 290 6067.



FAQ's
Q - How do I add contacts as my business grows?
A - Contact inContact's support team at 1 866 290 6067 or support@incontact.ca

Q - Are there payment options?
A - You can pay yearly or semi annually

Q - What if I want to take someone off the program in the middle of a 3 year program?
A - You will be credited for any unused portion of the marketing service minus a 27% administration fee

Q - What is the cut off date for my Calendar setup?
A - October 31

Q - What is the cut off date for my Newsletter setup?
A - Spring Issue: February 15 Fall Issue: August 31

Q - Is my data secure?
A - Yes. inContact's web system is hosted at Canada's most secure data centre, Q9 networks. Please visit www.q9.com for more information

Q - How will I know who is being contacted and when?
A - Each month you will be sent a report of who is being contacted 1 week prior to the marketing pieces being sent out.



Contact Us
If you would like more information, please email us at info@incontact.ca or call us at 1 866 290 6067.


Order
To order inContact's CRM Central please click here to fill in the order form. Or if you would like more information email us or call 1 866 290 6067 ext 111.